I promised you last month that this month I'd talk about how difficult it was to keep a trip from kids. Well, let me tell you, it was incredibly difficult. Part of it could be that the place to which we were going was Disney World.
Disney World. This is the place where Ben and I honeymooned. We also returned for our one-year anniversary, when we didn't have any children, and for our 10-year anniversary, when we had five and left them all with my dad, who lives in Florida. This was the first time we took our kids, and we were almost bursting with the excitement of it. I have no idea how we didn't spill the news somewhere in the four months between booking the trip and actually taking it.
We woke them up on Saturday morning, ushered them down to the table, and told them where we were going. They thought we were kidding. We told them they had just enough time to pack their bags for the plane (I was pleased to see that they mostly brought books with them), jump in the car, and patiently ride to the San Antonio airport, after which we flew to Dallas (apparently no direct flights exist for San Antonio to Orlando) and then, finally, to Orlando after a two-hour layover. We waited another hour to get our hotel. They were so eager to see Disney World they could hardly stand it. We were, too.
One of the first things we did when we got there, though, was make a family bookshelf.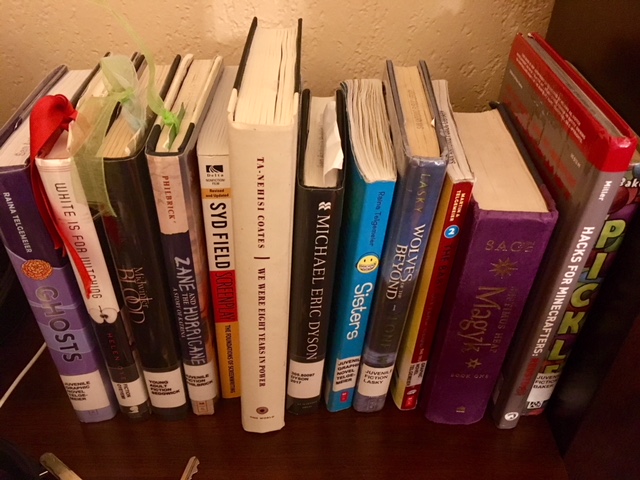 You might think there's not a lot of time to read at Disney World, but, actually, you do a lot of waiting for the park transportation. I usually opted to observe people instead of read (because most days I'm holed up in my room; I thought I'd take the opportunity to branch out a little while I had the chance), but my husband and boys read plenty.
We rode together on buses,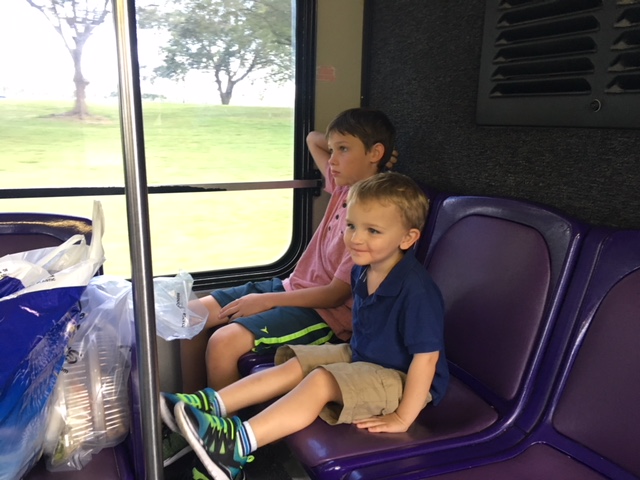 observed amazing animals (and amazing shows) at the Animal Kingdom,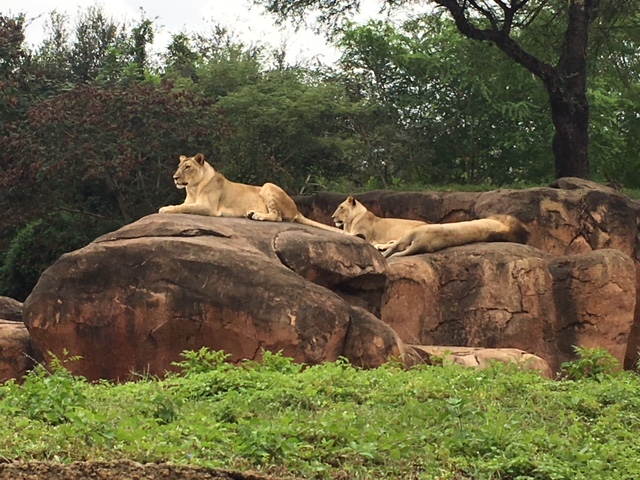 and ate way, way, way too much ice cream.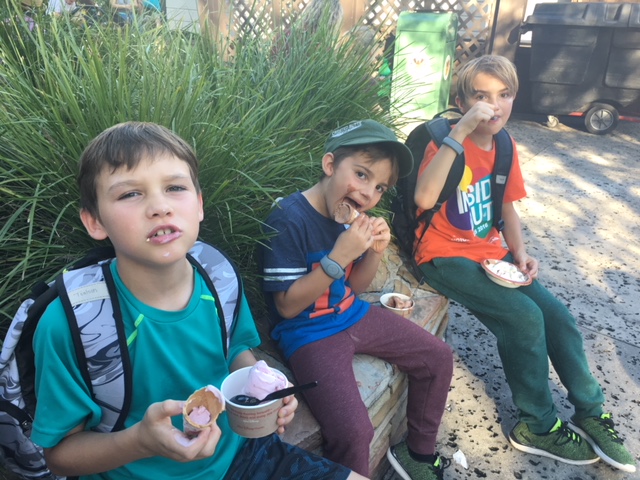 We also sweat a whole lot (because October in Florida is about like October in Texas).
After we'd visited all the parks and wrapped up our amazing trip, the boys were already talking about it again. It was a magical trip, and anyone who's been to Disney World knows that it gets in your bones and your blood, and before the trip is even over you're planning your next one. Which, of course, we were doing—though it will be a while. It's certainly not cheap taking kids to Disney.
There was a tragic ending to that trip, however. While there, I received news that my brother has brain cancer. This was a shocking jolt, news no family member ever wants to hear. I am very close to my brother, and it has been incredibly hard to come to terms with this new reality. I am still weepy when I think of him or see him or get a text from him. Love is a difficult thing sometimes.
On Oct. 31, he had surgery to remove a very large tumor and was given an initial diagnosis, along with a treatment plan that includes radiation and chemotherapy. I will be helping him with a natural approach to healing as well. He is certainly not out of the clear. So if or when you think of me, please also hold space in your heart and mind for my brother. We covet all prayers and thoughts for healing and a long, long, long life.